Three-year grant from Federated Indians of Graton Rancheria builds on shared objectives to care for culturally and ecologically important coastal habitats
Audubon Canyon Ranch holds in its care more than 1,300 acres of Coast Miwok lands in western Marin County. Recently we received $200,000 from the Federated Indians of Graton Rancheria (FIGR) for the purpose of improving coastal habitats along Tomales Bay and the Bolinas Lagoon.
The three-year grant will allow us to implement a mixture of stewardship techniques, including the use of prescribed fire and conservation grazing, on its coastal properties. This is the third grant received from FIGR to support the stewardship of Audubon Canyon Ranch preserves in Sonoma and Marin counties.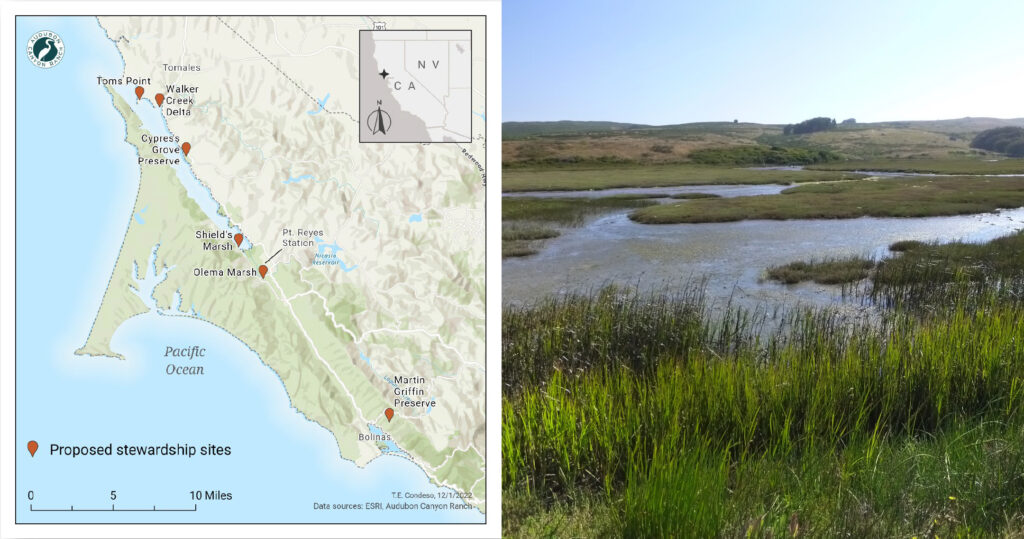 Halting coastal prairie loss, improving wetland function, and restoring fire as an ecosystem process
Five sites distributed across the length of Tomales Bay — Toms Point, Walker Creek Delta, Cypress Grove, Shields Marsh, and Olema Marsh — were chosen based on shared stewardship objectives including to promote and protect plants of cultural interest including lupine, bog dogwood, salmonberry, and cattail.
Toms Point encompasses 70 acres of coastal sand dunes, scrub, native grasslands, and salt marsh, offering significant habitat for wildlife, songbirds, and raptors, good tidal foraging for the area's abundant herons and egrets, as well as undeveloped coastline for wintering shorebirds. Like many historic coastal prairies along the California coast, coyote brush and coastal bush lupine have out-competed native bunch grasses and wildflowers in some areas of the preserve and remain a good candidate for prescribed disturbance to maintain the native coastal prairie grasslands.
Walker Creek's 76-square-mile watershed is home to steelhead trout and coho salmon, the endangered freshwater shrimp, red-legged frogs, and many other aquatic species. Audubon Canyon Ranch stewards roughly 100 acres of the tidally influenced floodplain where the creek transitions into the bay adjacent to mudflats used for aquaculture. Rare salt marsh vegetation acts as a buffer, filtering nutrients and sediment from upstream, while providing a transition zone and important resting and foraging area for shorebirds, waterfowl, herons, egrets, and raptors.
Two hundred years ago, the 40-acre Olema Marsh at the southern end of Tomales Bay was part of an extensive delta salt marsh extending up Bear Valley and Olema Valley from the mouth of Lagunitas Creek. In the early 1900s, a levee was constructed across these valleys to create Levee Road (a short section of Sir Francis Drake Boulevard), cutting off tidal influences from Lagunitas Creek. The marsh was later included in the larger 560-acre Giacomini Wetlands restoration project completed in 2009.
Further south on the Bolinas Lagoon, proposed work at Martin Griffin Preserve includes continuing coastal prairie restoration work, improving redwood forest health, and monitoring post-fire effects on previously treated areas, as well as supporting tribal members in plans for stewardship of hazel patches.

The projects will benefit native plants, birds, salmonids, and other species
Together, the projects will benefit native plants, birds, salmonids, and other species living within these coastal habitats and advance a shared goal to restore fire as an ecosystem process.
"Audubon Canyon Ranch has the privilege and responsibility of holding land within the ancestral territory of the Federated Indians of Graton Rancheria. We are grateful for their generosity in sharing time, expertise, and guidance as well as this additional round of funding to improve the health of some of California's most diverse coastal habitats," said Tom Gardali, CEO of Audubon Canyon Ranch. "Not only will this work contribute to regional resilience, it also contributes to California's Pathway to 30 x 30 initiative which seeks to protect and restore biodiversity and mitigate and build resilience to climate change."
Prescribed fire activities at Toms Point and Martin Griffin Preserve, which have been in the planning stages for months, may be implemented as early as this fall.
"We are so proud and happy to be able to support Audubon Canyon Ranch and all the good work they do to help build and maintain a sustainable future," said Greg Sarris, Chairman, Federated Indians of Graton Rancheria.
Learn more about Tomales Bay and Martin Griffin preserves.