Josephine Rivera-Hoagland recognized for commitment to environment  
"I'm happy to say that I've also learned a lot at the preserve. From wildflowers to the wildlife cameras, my knowledge and hands-on learning have inspired me to continue to take action to protect the environment in college. I'm so lucky to have had the opportunity to learn at Bouverie, and now I feel like I understand how important our natural world is, especially here in Sonoma County," says Rivera-Hoagland. She is on track to graduate high school near the top of her class, having taken eight Advanced Placement classes including AP environmental science. She will be attending the University of California, Los Angeles for mechanical engineering, and hopes to continue doing environmental work.  
Josephine Rivera-Hoagland still remembers the first time she visited Bouverie Preserve. "I was with my classmates on a sunny afternoon, and it seemed like, round every corner, a surprise of some sort waited for us. Ferns unfolded, tender and new, near the creek, while our docent shone a light into the little turrets nearby," she recalls. She explores the stewardship principles she learned as a Juniper Junior Naturalist throughout her life — installing rain barrels, planting oak trees, and spreading local wildflower seed. After completing Juniper training, she volunteered with Audubon Canyon Ranch regularly, counting newts every spring, leading hikes, participating in workshops, and removing ice plant from our coastal preserves.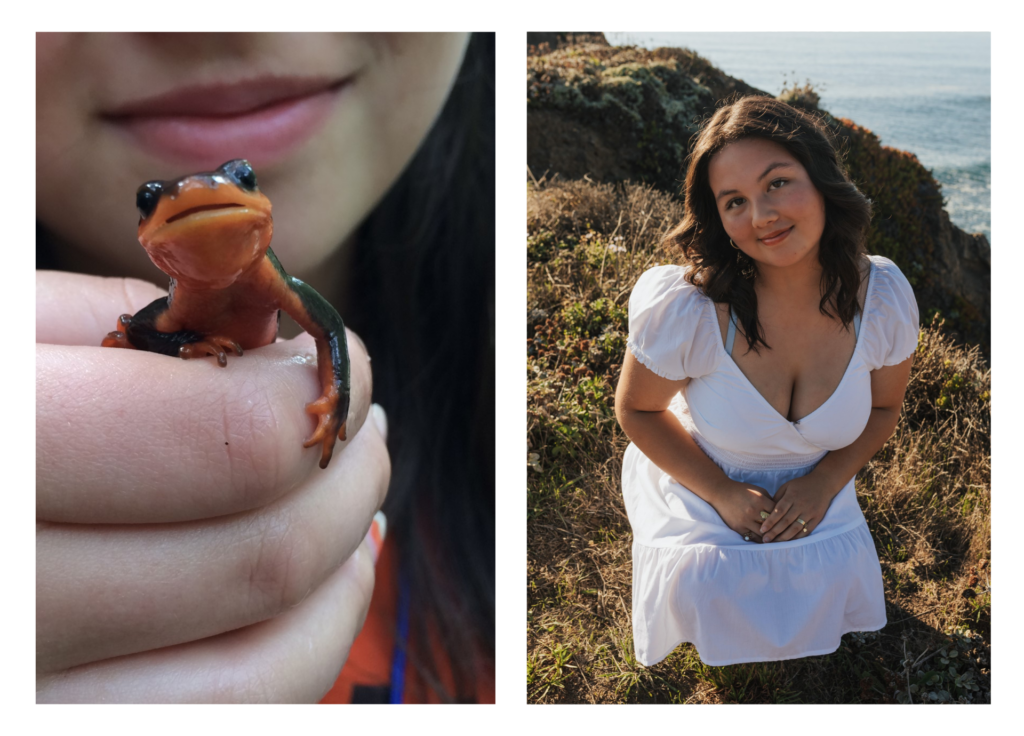 Josie Eubank also awarded for decade of dedication to natural world 
Josie Eubank, reflecting on her high school experience, shares, "I treasured my time spent at Bouverie Preserve more than anything. From third grade to senior year, Bouverie Preserve has played a huge role in shaping me into the person I am with such a love for nature and the world around me." She recounts her favorite memories, including "newt counts and guided hikes down trails dotted with wildflowers; participating in prescribed burns and planting native species; days spent by the creek evaluating water quality while capturing cool insects; conservation photography classes and late nights spent gazing at the stars at Sugarloaf Ridge State Park's observatory."  
Eubank hiked at Bouverie Preserve for the first time in third grade. She went on to teach other young Junipers the importance of preserving nature and land stewardship. After participating in Conservation Science Intensive in 2019, she returned as a peer mentor in 2022. "I was not only sharing my knowledge," she shares, "but I felt as though I was fostering a sense of community. The cycle of learning never ends because I learn all over again as I teach others, and they teach me. It has been gratifying to pass along this passion." 
Currently a senior at Maria Carrillo High School, Eubank plans to attend UC Davis, majoring in Environmental Policy Analysis and Planning. She hopes to pursue a career focused on the complex relationship between humans and the environment, following her passion to analyze environmental problems and find solutions for a brighter future. 
"Audubon Canyon Ranch is pleased to support these two young women who have chosen to deepen their connection to nature throughout their lives thus far and are continuing with educational pursuits that will serve to support the thriving ecosystems and the humans that depend on them," said Tom Gardali, Audubon Canyon Ranch CEO. 
Learn more about the David Bouverie Scholarship 
In 2009, the David Bouverie Scholarship Fund was established with an initial grant of $25,000 from The Dennis and Carol Ann Rockey Fund of the Marin Community Foundation. 
The Fund was established in memory of Phyllis Ellman, a longtime ACR Board member and "founding mother" of Bouverie Preserve's Environmental Education Program and the Juniper Junior Naturalist Program. Ellman served as a docent from 1980 until her death in June 2009.  
The Scholarship Fund provides $2,000 academic scholarships to Junipers who remain involved through high school and plan to pursue higher education or service in the sciences or environmental education. 
Previous Recipients of the David Bouverie Scholarship: 
2022 Lucas Morthol, Montgomery High School
2021 Hunter Halkovich, Cardinal Newman High School
2020 Lucia Garay, Casa Grande High School
2016 Katy Tracy and Sara Tracy, Windsor High School
2015 Jared Abramson, Montgomery High School
2014 Daniel Grubb, Rancho Cotate High School
2014 Alex Lutzow, Technology High School
2013 Jason Allen
2012 Nick Tracy, Windsor High School
2011 Elliott Smeds, Maria Carrillo High School
2010 Sophia Grubb, Rancho Cotate High School
2009 Gerrit Van Sickle, Sonoma Valley High School
Support the ongoing education goals of young naturalists 
Young naturalists today are the leaders and scientists of tomorrow. 
Visit https://egret.org/donation-form-give to make an online contribution (specify "David Bouverie Scholarship Fund"), or by phone at 415-868-9244 ext .119 or via check with the memo to: 
Audubon Canyon Ranch 
P.O. Box 577 
Stinson Beach, CA 94970